Alexandria Virginia Florist
same-day flower delivery in Alexandria VA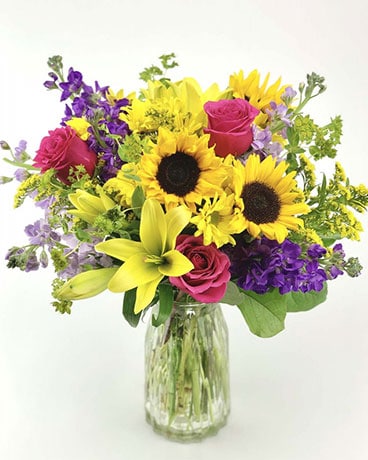 Twinbrook Floral Design is a second generation, family owned and operated floral design firm. We offer beautiful fresh flowers, plants and occasion themed gifts. All of the floral arrangements we create are guaranteed to be expertly designed by one of our award winning floral artisans. Each arrangement will be created using gorgeous, farm fresh flowers.
We offer a 100% customer satisfaction guarantee with every floral bouquet we design and deliver. If for any reason you don't absolutely love the design we have created for you, just contact our flower shop. Our staff will replace that arrangement with one of equal or greater value, absolutely and free of charge.
100% Customer Satisfaction Guarantee
Local Same Day Delivery
We offer local same day flower delivery service in Alexandria, Chantilly and throughout Northern Virginia. The delivery team at Twinbrook is an experienced group. Most have been delivering flowers, plants and occasion themed gifts for us for a number of years. They have extensive knowledge of the Northern Virginia area. Every flower arrangement that is scheduled for same day delivery comes with a 100% on-time delivery guarantee.
Express Flower Delivery Service
Twinbrook Floral Design also offers a wonderful express flower delivery option for local customers. If you need an arrangement to arrive by a specific time of day, we encourage you to opt for our express delivery service. In most cases, we can design and deliver a floral bouquet within approximately 4 - 5 hours of the time it was ordered. Express flower delivery service works great for deliveries destined for hospitals, churches, funeral homes and mortuaries.
Alexandria Virginia Zip Codes In Our Local Delivery Zone: 22301, 22302, 22303, 22304, 22305, 22306, 22307, 22308, 22309, 22310, 22311, 22312, 22315, 22331, 22332
Sympathy Flowers
Twinbrook Floral Design offers the best selection of sympathy and funeral flowers in Northern Virginia. The award-winning floral design team at Twinbrook creates beautiful casket sprays, standing sympathy sprays, alter flowers for the service, and sympathy bouquets appropriate to send to the home. Our casket sprays are available as either half casket sprays or full casket sprays. The standing sprays can be themed as traditional standing sprays, circular wreaths, heart shaped sprays or cross shaped sprays.
Anniversary Flowers
Looking for the perfect Anniversary Floral or Gift Idea? Twinbrook Floral Design is the place to shop. We offer a great selection of Anniversary themed floral bouquets. Choose from all your favorites, including; Ecuadorian Long Stem Red Roses, Full Bloom Hydrangea, Exotic Orchids, Gerbera Daisies and many more. Twinbrook Floral Design has been in business since 1994. Our Ecuadorian Roses are absolutely gorgeous. We also offer three different varieties of orchid arrangements, including; Cymbidium, Dendrobium and Phalaenopsis Orchid bouquets. Our award winning design staff can also create custom Anniversary flower designs. If you look at the Anniversary collection on the website and don't see exactly what you want. Please contact our flower shop. We will custom design the exact bouquet you need.
Hospital Flower Delivery
Twinbrook Floral Design offers local same day and express flower delivery service to hospitals in Alexandria, Chantilly and throughout Northern Virginia. We have created a wonderful Get Well Flower Collection. The floral artisans at Twinbrook also design beautiful arrangements, themed to celebrate the birth of a newborn baby. We have bouquets specifically themed and designed for both female and male babies. Same day hospital flower deliveries are all guaranteed for on-time arrival. If you need the new baby floral bouquet to arrive at a specific time, please select our express delivery option. That way, our deliver staff will have that arrangement delivered by the specific time of day you select.
Wedding & Event Flowers
Twinbrook Floral Design offers beautiful wedding and event flowers. If you are preparing to begin your planning for an upcoming wedding or event, we encourage you to contact our floral design center. We offer FREE wedding and event flower consultations. The award winning team at Twinbrook has years of experience designing for weddings and events. We have first hand knowledge of most of the wedding and event venues in the Northern Virginia area. During your consultation, we will discuss your vision for your wedding or event. That will include a conversation about the event venue, in which our team will share their thoughts on the best presentation styles and themes that fit the venue you have selected.
Tonya is a decorated floral designer with over 20 years experience in design and has been a part of the Twinbrook wedding and events team for almost 3 years. Prior to joining Twinbrook, she owned a successful floral business specializing in weddings and events. Tonya understands the unique visions of every couple and brilliantly transforms them into reality for any venue or occasion. Tonya designs weddings in modern, traditional, themed, and/or rustic styles and is always in tune with seasonal trends. Her go to flowers are elegant Dahlias. In her free time, Tonya enjoys spending time with her family and working outside in her garden.
All event consultations are handled out of our floral design center in Chantilly, VA. The Twinbrook Floral Design Center is located at 4151 Lafayette Center Drive, Suite 110B, Chantilly, VA 20151.