ANNANDALE Virginia Florist
same-day flower delivery in ANNANDALE VA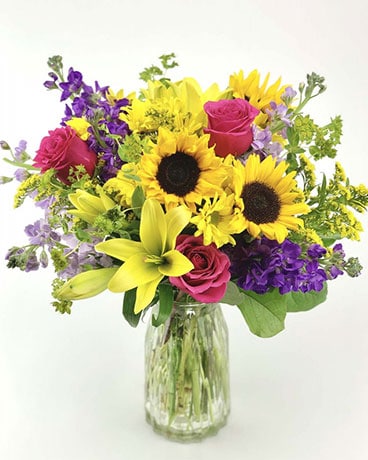 Twinbrook Floral Design is an Annandale Virginia Florist. We provide same day and express flower delivery service for our customers in Annandale. The award winning floral design staff at Twinbrook create luxurious, upscale floral designs. Some of the most unique in Virginia. They create occasion themed bouquets for anniversaries, birthdays, get well, graduations, the birth of children, weddings and events. We operate a beautiful flower shop and a wholesale flower market. Both are open to the public for in-store shopping.
Our wholesale flower market is called, Metro Flower Market. Many of the flowers we sell at Metro and Twinbrook are purchased directly from international and domestic flower farms. Purchasing direct ensures that our customers always have access to the widest variety of flowers possible. It also reduces the time between when the flowers are cut and when our design team can use them to create a gorgeous arrangement. Reducing that time frame ensures that we are working with the finest, freshest flowers available. It also translates into longer vase life for the people who receive an arrangement from us.
100% Customer Satisfaction Guarantee
Farm Direct Fresh Flowers
Twinbrook Floral Design operates both a retail flower shop, as well as a wholesale flower market. We purchase many of the flowers we sell directly from domestic and international flower farms. Buying direct offers many great advantages. The cost of the flowers is reduced by buying direct. We pass along much of those savings directly to our customers. Reducing the time between when the flowers are cut at the flower farms and when they arrive in our shop is critically important. Fresher flowers for our design team translates to longer vase life for our customers. Meaning, farm direct flowers ensures you will enjoy your Twinbrook floral bouquet longer.
Ecuadorian Roses
We purchase roses from a number of different sources. Some of the most popular varieties we sell are our Ecuadorian Roses. These gorgeous roses are grown high in the mountains of Ecuador. There the rose plants enjoy the perfect blend of sunlight, soil conditions and rainfall. Ecuadorian roses tend to have longer stems and gorgeous, large blooms. These are definitely some of the freshest and prettiest roses you will ever see.
Rose Varieties & Their Uses
Ecuadorian roses come in a number of different varieties. We tend to use the long stem roses for our Anniversary Floral Bouquets, Birthday Arrangements and our Love and Romance Floral Collection. Those flower arrangements tend to be taller in style. We use the garden roses in many of our wedding and event flower designs. Garden roses are absolutely gorgeous flowers. They are somewhat similar in style to ranunculus. When combined with ranunculus and peonies in a wedding or event design, the end result is always luxurious and beautiful. The spray roses are used primarily in our sympathy and funeral flower designs. We use spray roses for sympathy casket sprays and for many of the standing sympathy sprays that we create.
Wedding & Event Flowers
Twinbrook Floral Design offers beautiful wedding and event flowers. If you are preparing to begin your planning for an upcoming wedding or event, we encourage you to contact our floral design center. We offer FREE wedding and event flower consultations. The award winning team at Twinbrook has years of experience designing for weddings and events. We have first hand knowledge of most of the wedding and event venues in the Northern Virginia area. During your consultation, we will discuss your vision for your wedding or event. That will include a conversation about the event venue, in which our team will share their thoughts on the best presentation styles and themes that fit the venue you have selected.
Tonya is a decorated floral designer with over 20 years experience in design and has been a part of the Twinbrook wedding and events team for almost 3 years. Prior to joining Twinbrook, she owned a successful floral business specializing in weddings and events. Tonya understands the unique visions of every couple and brilliantly transforms them into reality for any venue or occasion. Tonya designs weddings in modern, traditional, themed, and/or rustic styles and is always in tune with seasonal trends. Her go to flowers are elegant Dahlias. In her free time, Tonya enjoys spending time with her family and working outside in her garden.
All event consultations are handled out of our floral design center in Chantilly, VA. The Twinbrook Floral Design Center is located at 4151 Lafayette Center Drive, Suite 110B, Chantilly, VA 20151.