ARLINGTON Virginia Florist
same-day flower delivery in ARLINGTON VA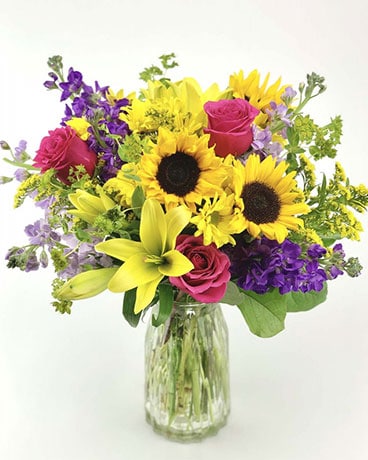 We are known as one of the premier florists in Arlington, Washington, D.C. and throughout Northern Virginia. Our award winning floral design staff creates luxurious, upscale floral designs. The artisans at Twinbrook Floral Design have been creating gorgeous, fresh flower arrangements since 1994. Family owned and operated, Twinbrook Floral Design offers the latest floral industry trends for any occasion and specializes in weddings and special events. Offering a wide variety of gourmet foods, fine chocolates, plush accompaniments, and gift/fruit baskets, we pride ourselves on a being a one stop shop for any client.
Our deep-rooted passion for flowers and our commitment to exemplary customer service make us the ideal choice for any occasion! We offer local and nationwide deliveries and have a wholesale flower division, Metro Flower Market , for Do it Yourself (DIY) enthusiasts.
Metro Flower Market is a DIY wholesale business open to the public in Chantilly, Virginia, dedicated to provide top-quality fresh cut flowers from around the world at fair market prices. Family owned and operated. we value the importance of delivering the freshest product each day and work hard to deliver and enjoyable customer service. At Metro Flower Market we go beyond just flowers to help furnish the supplies you need to create memorable and sophisticated floral arrangements.
No matter who you are, we have flower care experts on hand to answer your questions and accommodate your wholesale flower needs. Metro Flower Market is open to the public and welcomes everyone to visit the store. In addition to our selection of quality floral product, we offer in- store pick up and local deliveries.
100% Customer Satisfaction Guarantee
Birthday Flowers
Twinbrook Floral Design offers the best selection of birthday flowers, plants and gifts in Arlington, Chantilly and the Northern Virginia area. Our award winning team has created a really nice selection of birthday themed floral bouquets. Click on the BIRTHDAY FLORAL COLLECTION link to see those arrangements. If you don't see the exact birthday bouquet you are looking for, please contact our floral design center. The artisans at Twinbrook can custom design the exact flower arrangement for your friend or loved one. We operate a retail flower shop and a wholesale flower market. Our customers enjoy a wide variety of beautiful, farm fresh flower to choose from. Every birthday arrangement we create comes with our 100% customer satisfaction guarantee.
Get Well Flowers
We provide local same day and express flower delivery service to hospitals in Arlington and throughout the Northern Virginia area. Our delivery team starts loading for the initial delivery runs approximately 8:00 am each morning. The goal is the ensure that all deliveries destined for local hospitals are completed not later than 5:00 pm each day. If you need to have get well flowers, a plant or a get well themed gift delivered to a local medical center, we encourage you to opt for our express delivery service. For customers who use our express delivery service, we can normally have an arrangement designed and delivered within approximately 4 hours of the time the floral bouquet was ordered. Here is a list of some of the hospitals that we provide same day and express delivery service for; Andrew Rader US Army Clinic, Children's Health Care, George Washington University Hospital, Georgetown University Hospital, Howard University Hospital, Inova Alexandria Hospital, Inova Fairfax Hospital, Saint Elizabeth's Hospital, UM Prince George's Hospital.
Wedding & Event Flowers
Twinbrook Floral Design offers beautiful wedding and event flowers. If you are preparing to begin your planning for an upcoming wedding or event, we encourage you to contact our floral design center. We offer FREE wedding and event flower consultations. The award winning team at Twinbrook has years of experience designing for weddings and events. We have first hand knowledge of most of the wedding and event venues in the Northern Virginia area. During your consultation, we will discuss your vision for your wedding or event. That will include a conversation about the event venue, in which our team will share their thoughts on the best presentation styles and themes that fit the venue you have selected.
Tonya is a decorated floral designer with over 20 years experience in design and has been a part of the Twinbrook wedding and events team for almost 3 years. Prior to joining Twinbrook, she owned a successful floral business specializing in weddings and events. Tonya understands the unique visions of every couple and brilliantly transforms them into reality for any venue or occasion. Tonya designs weddings in modern, traditional, themed, and/or rustic styles and is always in tune with seasonal trends. Her go to flowers are elegant Dahlias. In her free time, Tonya enjoys spending time with her family and working outside in her garden.
All event consultations are handled out of our floral design center in Chantilly, VA. The Twinbrook Floral Design Center is located at 4151 Lafayette Center Drive, Suite 110B, Chantilly, VA 20151.