Chantilly High School
same-day flower delivery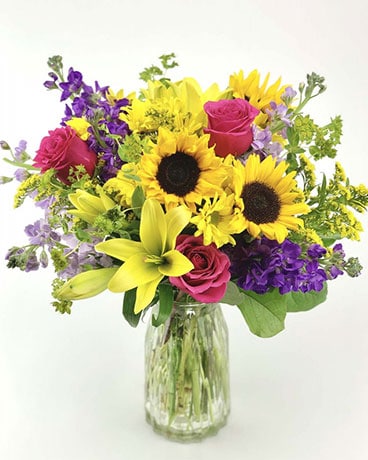 Twinbrook Floral Design provides local same-day flower, plant and gift delivery to Chantilly High School, located in Chantily, Virginia. We are a second generation, family owned and operated floral design firm. Our main flower shop is located in Chantilly, Virginia area. We also operate a wholesale floral business, which is co-located in the same building as our flower shop. Our flower shop address is 4151 Lafayette Center, Drive, Suite 110B, Chantilly, VA 20151.
We provide local same day and express flower delivery service to Chantilly High School. The main campus for Chantilly High School is located at 4201 Stringfellow Rd, Chantilly, VA 20151. The phone number for the school is (703) 222-8100. The driving distance from our flower shop to the school is 5.8 miles. That drive takes our flower delivery drivers approximately 11 minutes.
100% Customer Satisfaction Guarantee
Local Same Day Delivery
Twinbrook Floral Design offers local same day flower delivery service to Chantilly High School, and to other elementary, middle and high schools in the Northern Virginia area. The delivery team at Twinbrook is an experienced group. Most have been delivering flowers, plants and occasion themed gifts for us for a number of years. They have extensive knowledge of the Northern Virginia area. Every flower arrangement that is scheduled for same day delivery comes with a 100% on-time delivery guarantee. Delivery service to Chantilly High School is available Monday through Saturday.
Graduation Flowers
We offer the best selection of graduation flowers in the area. The award winning design team at Twinbrook creates beautiful graduation themed floral bouquets. In addition to floral bouquets, people often order green, flowering or succulent plants for the graduates as well.
Corsages
The award winning design staff at Twinbrook creates stunning corsages. These corsages can be custom designed to fit any occasion or celebration at the university.
Boutonnieres
Twinbrook designers create handsome boutonnieres. These boutonnieres can be custom designed to match the corsage of your date at the social event or celebration.
Birthday Flowers
The delivery staff at Twinbrook frequently delivers birthday flowers to the Chantilly High School campus. Our birthday flower collection is one of the best in the area. We have all your favorite floral varieties.
Express Flower Delivery Service
Twinbrook Floral Design also offers express flower delivery service to Chantilly High School. If you need an arrangement to arrive by a specific time of day, we encourage you to opt for our express delivery service. In most cases, we can design and deliver a flower arrangement within approximately 4 - 5 hours of the time it was ordered. Express flower delivery service works great for deliveries colleges, universities, hospitals, churches, funeral homes and mortuaries.
Delivery Stipulations
Elementary, Middle and High Schools generally allow for flower delivery to all primary facilities, including student dorms. We generally attempt to complete deliveries between the hours of 8:30 am to 5:00 pm. On Saturdays, we adjust our delivery hours to 9:00 am to 4:00 pm.
Weekend Delivery Policy: If we are unable to arrange for delivery on Sunday and time permits we will setup for delivery on Saturday, including Birthday and Anniversaries. If Saturday or Sunday is not available, then the order will be scheduled for Monday and we will inform you of the rescheduling (you will be contacted first before rescheduling a Birthday or Anniversary gift for Monday).