CHANTILLY Virginia Florist
same-day flower delivery in CHANTILLY VA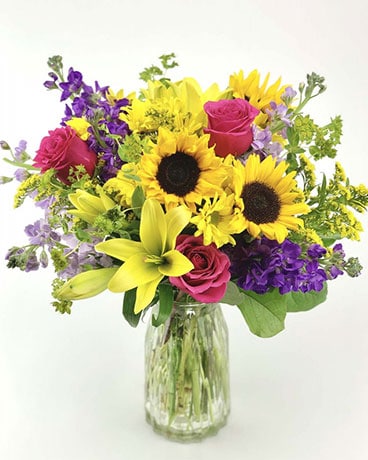 Twinbrook Floral Design operates a flower shop, right here in Chantilly, Virginia. We have built a reputation for creating gorgeous floral bouquets, at affordable prices. Our firm is a full service flower shop, and arguably one of the premier florists who operate in, and serve Northern Virginia. We opened the doors to our business way back in 1994.
We are a second generation, family owned and operated floral design firm. Twinbrook offers the latest floral industry trends for any occasion and specializes in weddings and special events. Offering a wide variety of gourmet foods, fine chocolates, plush accompaniments, and gift/fruit baskets, we pride ourselves on a being a one stop shop for any client.
Our deep-rooted passion for flowers and our commitment to exemplary customer service make us the ideal choice for any occasion! We offer local and nationwide deliveries and have a wholesale flower division Metro Flower Market for DIY enthusiasts. Please call 703-978-3700 for more information on Twinbrook Floral Design.
We operate a retail flower shop and a wholesale flower market. The retail flower shop is named, Twinbrook Floral Design. Our wholesale flower market is called, Metro Flower Market. Both of these facilities are open 6 days a week to the general public for in-store shopping. The flower shop and the wholesale market are located at 4151 Lafayette Center Drive, Suite 110B, Chantilly, VA 20151.
100% Customer Satisfaction Guarantee
Local Same Day Delivery
100% Guaranteed On-Time Arrival
Twinbrook Floral Design provides local same day flower delivery anywhere in Fairfax County, Alexandria City County and the District of Columbia. All same day deliveries in these areas are backed by our on-time arrival guarantee. We employ a professional team of flower delivery employees. These folks provide local same day and express flower delivery service, 7 days a week.
We guarantee that every flower arrangement we design and deliver will arrive on-time. Our firm has been in business since 1994. One of the reasons that we have flourished over the past 20+ years is our commitment to perfection. We are relentless in our efforts to ensure that every single arrangement exceeds the expectations of those we deliver them to. For that reason, we back all of our flower arrangements with a 100% customer satisfaction guarantee.
4 Hour Express Flower Delivery
Guaranteed On-Time Delivery
Twinbrook Floral Design provides express flower delivery service in the Chantilly area. There are times when you need your flower purchase to arrive by a specific time of day. If that is the case, we encourage you to opt for our express service. Customers that want to send flowers to area hospitals often find our express delivery service extremely helpful. We also handle quite a few express deliveries of sympathy and funeral arrangements. Our team has years of experience with delivering to Northern Virginia area hospitals, funeral homes, churches and businesses. When you opt for our express service, you can rest assured that we will get your gift delivered within the time frames agreed upon.
Best Roses In Northern Virginia
Long Stem Roses, Garden Roses, Spray Roses
Twinbrook Floral Design offers the best roses in Northern Virginia. We purchase from both domestic and international floral farms and suppliers. Some of the most popular roses that we sell are our Ecuadorian long stem roses. These roses are simply stunning. We purchase the premium variety. That ensures that we receive the finest, freshest, highest quality roses available. The premium Ecuadorian roses generally have longer stems and much larger blooms. We buy from many of the same farms that the top flower shops in the country use.
What makes an Ecuadorian rose different? For one, these roses are grown high in the mountains of Ecuador. Most would think that roses would grow better at lower altitudes, but, quite the contrary. The best roses are grown in the high mountain meadows. There the rose plants can be planted in soil that is absolutely perfect. Great soil means gorgeous roses. As if the perfect soil wasn't enough, the mountains also provide increased rainfall. Rose plants love moisture, especially when the soil is able to make optimal use of that moisture. Finally, the rose plants in these mountain farms also receive the perfect amount of sunlight. Rose plants tend to flourish in mostly sunny conditions. There you have it. The mountains offer the perfect blend of great soil, ample sunlight and exactly the right amount of rainfall. The result is a gorgeous, high mountain Ecuadorian long stem rose.
Wedding & Event Flowers
Twinbrook Floral Design offers beautiful wedding and event flowers. If you are preparing to begin your planning for an upcoming wedding or event, we encourage you to contact our floral design center. We offer FREE wedding and event flower consultations. The award winning team at Twinbrook has years of experience designing for weddings and events. We have first hand knowledge of most of the wedding and event venues in the Northern Virginia area. During your consultation, we will discuss your vision for your wedding or event. That will include a conversation about the event venue, in which our team will share their thoughts on the best presentation styles and themes that fit the venue you have selected.
Tonya is a decorated floral designer with over 20 years experience in design and has been a part of the Twinbrook wedding and events team for almost 3 years. Prior to joining Twinbrook, she owned a successful floral business specializing in weddings and events. Tonya understands the unique visions of every couple and brilliantly transforms them into reality for any venue or occasion. Tonya designs weddings in modern, traditional, themed, and/or rustic styles and is always in tune with seasonal trends. Her go to flowers are elegant Dahlias. In her free time, Tonya enjoys spending time with her family and working outside in her garden.
All event consultations are handled out of our floral design center in Chantilly, VA. The Twinbrook Floral Design Center is located at 4151 Lafayette Center Drive, Suite 110B, Chantilly, VA 20151.