Inova FAIR OAKS Hospital
same-day flower delivery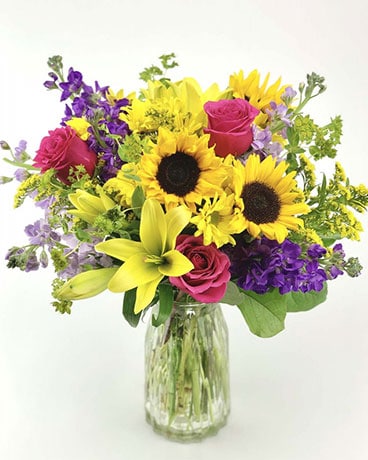 Twinbrook Floral Design provides local same day and express flower delivery service to Inova Fair Oaks Hospital. The hospital is located at 3600 Joseph Siewick Drive, Fairfax, VA 22033. Our delivery staff has years of experience delivering to Inova Fair Oaks Hospital. We deliver get well flowers, green plants, flowering plants, succulent plants, tropical plants and get well themed gifts to Inova Fair Oaks Hospital. The facility has specific times that they prefer to have deliveries handled in. Generally we attempt to complete all deliveries to Inova Fair Oaks Hospital between the hours of 9:00 am and 6:00 pm.
The delivery staff at Twinbrook Floral Design starts early. They arrive around 7:30 am and begin loading for their first delivery runs around 8:00 am. Our flower shop is located at 4151 Lafayette Center Drive, Chantilly, Virginia 20151. The delivery area these cover is one of the largest of any florist in Northern Virginia. We provide local same day and express flower delivery service to parts of Fairfax Count, Alexandria City County and the District of Columbia.
100% Customer Satisfaction Guarantee
Hospital History
Inova Fair Oaks Hospital was named one of the nation's top 100 hospitals. The Inova Fair Oaks medical facility is part of a larger group of hospitals in the chain. All five Inova hospitals were awarded 'A' grades for the spring 2020 Leapfrog Hospital Safety Grades, recognizing Inova's achievements in protecting patients from harm and providing safer healthcare.
Hospital Visitation and Delivery Hours
Monday - Sunday: 8:30 AM - 8:30 PM
Visiting hours are from 8:30 AM to 8:30 PM daily. Visiting hours vary by floor. Some units, such as intensive care units, may have limited visiting times. Supervised, well-behaved children may visit patients, however, children under the age of 12 are not allowed in the intensive care units.
100% Customer Satisfaction Guarantee
Every get well flower arrangement we create is backed by our 100% customer satisfaction guarantee. If you receive an arrangement from Twinbrook Floral Design that you are not absolutely thrilled with, please contact our flower shop. We are looking to not only meet, but, to exceed your expectations. If you don't love it, we will replace that arrangement with one of equal or greater value and redeliver it, absolutely free of charge. That is our promise to you
Get Well Flowers
We offer the best collection of get well flowers, plants and occasion themed gifts in Fairfax County. Twinbrook Floral Design was established in 1994. Our staff has more than 20 years experience creating and delivering beautiful get well themed floral designs. Get Well Flowers are available in many different styles and designs. Some of the most popular arrangements tend to be designs that include gorgeous sunflowers, gerbera daisies and carnations.
Get Well Plants
Twinbrook Floral Design offers the best selection of green plants, flowering plants, dish gardens, blooming baskets, orchids and tropical plants in Fairfax, Virginia.